One Ticket with Two Parties
Perhaps this is a sign of things to come.  In a dramatic shift from the hyper-partisan version of America that we have all been living in, there is talk of a bipartisan gubernatorial ticket in Florida.  There is increasing talk of Democrat Patrick Murphy and Republican David Jolly forming a top-of-the-ticket team.  One would be candidate for Governor, the other for Lieutenant Governor.  Both are former Florida Congresspersons.
This Would be Quite a Change!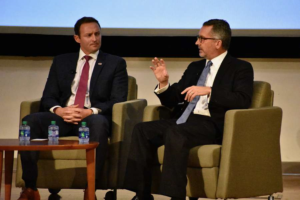 Since the nineties, Florida has been characterized by one-party rule in both chambers of the legislature and the governor's office.  Adding to partisan rancor, Governor Rick Scott endorsed Donald Trump during the primary process.  Scott, who is now running for Senate against incumbent Bill Nelson, has launched a vicious media campaign attacking Senator Nelson.  There is not bipartisanship, or coming together, on his campaign's horizon.  But as all of us who follow politics know, this is a case of business as usual.
It's an Exciting Opportunity
A bipartisan gubernatorial slate is a first in contemporary Florida – and perhaps all of contemporary America.  This is different than an independent candidate running for high office as they usually point to the wrongs of both parties.  In this case, there is a chance for real teamwork.  There is the possibility for the commonalities in both parties to be emphasized, rather than the differences.  There is the opportunity for issues that the vast majority of us agree on – such as real, common sense gun control – to become law.
While a bipartisan gubernatorial ticket is not getting much attention today, it could be the most significant occurrence to happen in Florida politics in a recent memory.
-Andrew Schoolnik 5/27/18