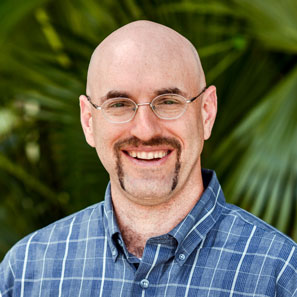 Andrew Schoolnik, PhD, LCSW, MEdL, MCAP
Andrew Schoolnik is a social worker who is dedicated to both client care and advancing social justice. Andrew's clinical work has been in the substance abuse treatment field.  He has worked with clients in levels of care ranging from detox to outpatient. He has also been an award winning Realtor and a political organizer.  Schoolnik supports progressive candidates and causes.
Andrew Schoolnik's Story
This web-site has will tell parts of Andrew's story in both words and pictures.  You can learn about his life's path.  You can also review a summary of his research.  In addition, follow his winding journeys across America, which have focused on our shared American history and golf.  Please check out his blog, too.
Andrew Schoolnik's Education
Andrew Schoolnik earned a PhD in Social Work from Barry University (2018) in Miami Shores, Florida.   His research regarded social justice and social work education. He earned a Masters in Social Work from Florida Atlantic University (2014) in Boca Raton, Florida, which focused on clinical practice.  Schoolnik also has a Masters in Educational Leadership from Central Connecticut State University (1999) in New Britain, Connecticut.  He has a Bachelor of Science from Brandeis University (1998) in Waltham, Massachusetts.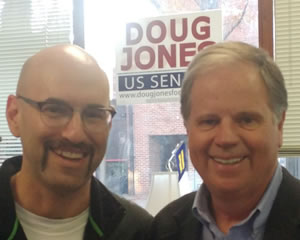 Schoolnik and Politics
Throughout his life, Andrew has been an active supporter of progressive politics.  He has managed multiple Democratic campaigns in addition to the countless ones he has volunteered for.  These efforts include supporting candidates running for offices from the local Board of Education to state-wide offices.  Schoolnik has supported candidates who are leaders in progressive politics.  They have been instrumental in the success of important efforts such as voter enfranchisement and campaign finance reform.
The photo seen here is of Andrew Schoolnik and Senator Doug Jones.  Andrew was a full-time volunteer during the last week of Jones' senate campaign.  It was very meaningful for Schoolnik to be a part of this very important, and meaningful, campaign.
Andrew was twice elected to serve on his original hometown's Town Council.  While in office, Andrew voted his conscience and worked to build consensus across party lines.  He was an advocate for the school system.  He recognized that strong schools are both good for the children who attend them and the municipality at large.  One of his proudest accomplishments from these years was proposing a town-wide greenway.  This proposal gained unanimous support and has since been constructed.  This greenway travels south to north and connects different communities within the town.  In effect, the greenway brings people together.
Schoolnik is a past-president of the Bishop's Corner Neighborhood Group.  He is a former member of the local Chamber of Commerce.  He was also member of his local Democratic Town Committee.
Schoolnik and Sobriety
In 2002, Andrew's journey led him to sobriety.  At that time, his intoxicated behavior brought a difficult end to his service as a young, elected, municipal councilman.  It was during those days that he first found needed support to address his alcohol abuse.  Through many years hence, his sustained sobriety has become one of his greatest assets, and eventually led him to social work.  On a personal and professional level, his clinical practice in the substance abuse treatment field has been rewarding.
Schoolnik and Social Work
As a clinical social worker, Andrew Schoolnik has dedicated his work towards assisting people with drug addiction and alcoholism.  He has worked in several different substance abuse treatment centers.  In these years he has worked with clients in levels of care, ranging from detoxification to outpatient.  This has been the most fulfilling work that Andrew has ever done.
As a social work educator, Schoolnik is an Adjunct Professor, Academic Advisor, and Field Advisor at the Barry University School of Social Work.  He has taught both online and face-to-face.  He consistently receives positive evaluations from his students.
Andrew's social work mentor is Julius Newman.  Julius is a retired professor at the University of Connecticut School of Social Work.  While Andrew never had Professor Newman in a classroom, he learned by his side throughout their common adventures.  Julius would often emphasize "process."  He would also maintain his constant focus on people.  It was Julius who first told Schoolnik that he should become a social worker.
In 2018, Andrew earned a PhD in social work.  In doing so he was able to combine two of his favorite pursuits:  social work and social justice.  His dissertation is titled "The Journey to Social Justice Advocacy and Its Implications for Social Work Education."  This research is a phenomenological qualitative inquiry.  It is designed to learn the developmental path one takes to become an advocate for social justice.
His dissertation can be found in this web-site by clicking here.  It is divided by chapter and section to make for easier reading.
Schoolnik and Real Estate
Prior to this, Schoolnik spent more than a decade as an award winning residential Realtor.  He twice won the Emerald Award for being among the top two percent of Century 21 Realtors nationally.  Schoolnik's real estate mentor was C. Robert Wallace, a man who was once part owner of one of Connecticut's largest real estate agencies.  Through his real estate career, Andrew sold properties of all shapes and sizes.  These sales included condominiums, multi-family properties, and single family homes.  His customers became friends and to this day he misses house-hunting adventures.
Following Wallace's semi-retirement, Schoolnik was fortunate to have been a member of the Century 21 Clemens and Sons real estate family.  He enjoyed this agency for its high standards and ethical practices – attributes not always found in real estate agencies.
Schoolnik and Travel
Andrew is an avid over-the-road traveler.  During this travels he has visited almost every state east of the Rockies.  Along the way he has sought out sites that are off the beaten path…places such as the Boll Weevil Monument in Enterprise, Alabama, and the Boy and the Boot sculpture in Houlton, Maine.  He has a passion to visit places of historical significance.  This includes places such as the 16th Street Baptist Church in Birmingham, Alabama, and the Mackinac Bridge in Michigan.  Along the way he seeks out local fare, ranging from catfish in Louisiana to Walleye in North Dakota.
While on the road Schoolnik often takes time to play golf.  He has made played golf and made double bogeys all across the country.  Many of the courses he has played are photographed on the following pages.  A favorite golf excursion is along the Robert Trent Jones Golf Trail in Alabama, which is a series of awesome public courses noted for their beautiful geographic landscapes.
Other memorable golfing stops have been spending several days at The Links of North Dakota.  Though under multiple feet of snow during the winter months, this course blossoms every summer.  It is set above the banks of Lake Sakaawea and is designed to have a Scottish Links feel.  Schoolnik has also enjoyed golfing along Maine's rockbound coast, in Vermont's green mountains, and in South Florida.